Computer House Premier Dell Partner and Dell EMC Solution Provider
Small Business Solutions

Power Your Small Business with Dell Technology
With entrepreneurs as the foundation for innovation, economic growth and job creation, Dell and Computer House is committed to empowering entrepreneurs around South Jersey by providing them with the tools, technology and resources they need to be successful. Founded by an iconic entrepreneur, with an organizational structure that embraces the entrepreneurial spirit, Dell is uniquely placed to understand the challenges and opportunities faced by growing businesses. Computer House is South Jersey's leading independent Dell reseller. We can provide the right Dell technology solution for your business.
Boost Your Productivity
When you're running a small business, it can seem like there are never enough hours in the day. Fortunately, with the right tools and technology, you can begin to get more out of every minute – and boost your bottom line. When your technology is up-to-date and optimized, your employees can be more productive. As a Dell technology partner, Computer House is here to help you understand and implement new solutions so you can get more done in less time.
The Evolving Workforce
If you own or work for a small business you already know that the workforce is getting younger and that using the latest technology is paramount to your company's success.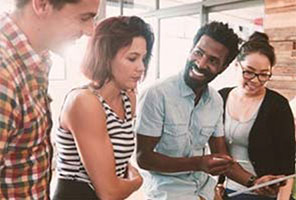 59% of millennials report state-of-the-art tech is important when considering a job
Workers want technology that's fast, simple, and mobile-friendly
Millennials don't separate work and life, so flexibility at work matters
Employers who offer flexibility are highly attractive to today's workers
Tech helps employers communicate and coordinate with remote workers
Rewards at work should be tailored to what will motivate the individual
Is your business ready for your first server?
Find out the benefits a server can provide. If you are seeing problems with resource sharing, lost data due to viruses or spyware, or intermittent Internet problems, a server could help your small business perform better. Backed by a dedicated Dell account team, our experienced technology experts work hand-in-hand with you to design the best matched solutions for your specific IT requirements. Get it right from the start. Contact Computer House today and ask for one our Dell Server consultants.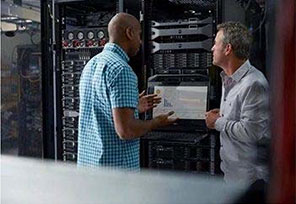 PowerEdge Server Security: Built-in, not bolted on
Server security is critical for securing the IT infrastructure. While much customer focus on cybersecurity concerns protecting the OS and applications, less attention is devoted to the underlying server infrastructure including hardware and firmware.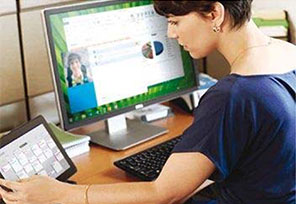 The importance of server security can't be overstated: Cyber intrusions and attacks can result in system and business downtime, lost revenue, lost customers, corrupted data, the inability to comply with government regulations for data protection, and damaged corporate reputation. To protect, detect and recover from cyber attacks, security is built into the PowerEdge server design, not bolted on after the fact.
With Computer House Manages Services, we will ensure that your Dell PowerEdge Server is up-to-date with the latest firmware updates for your servers critical components (BIOS, iDRAC Controller, Hard Drives and Network Adapters)
World's Most Manageable PCs
Time is money. Save on both.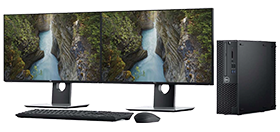 The world's most manageable PCs with Dellunique vPro™ extensions let you update BIOS even when systems are powered down.
With Dell's simple and easy to use systems management tools, optimized with best-in-class integration of Microsoft Systems Center 2012 & Dell KACE, you can make the most of your resources with less technician time invested.
Only Dell offers five generations of full support over the depreciated lifetime of desktops and laptops.
To learn more about the Computer House Premier Dell Partner and Dell EMC Solution Provider call Computer House of South Jersey and request a free consultation appointment with one of our IT Specialists. You can reach us at 609-652-3222 or click here to schedule your consultation.